Product Details
Features:

This 4-piece nut splitter set covers nuts from sizes 0.4" up to 1.06".
It is ideal for home / workshop / hobby studios and so much more.
It is particularly designed to remove damaged or corroded nuts without damaging the bolt thread.
Hardened steel blades and forged grips are manufactured elaborately for strength and durability.
All splitters can be used with sockets or wrenches and much more.
 
Description: 

It is useful for breaking seized nuts apart
Use a power tool or ratchet to tighten the tool against the nut and split it open
For Professional Mechanics Use
We have 4 sizes of nuts splitter for your special need. You can choose either one for the best use.
(Sizes are the diameter of the hole in the nut splitter)
5/16"-1/2" 9 12mm Nut Splitter. Requires 12mm Spanner to tighten.
1/2"-5/8"12 16mm Nut Splitter. Requires 14mm Spanner to tighten.
5/8"-7/8"16 22mm Nut Splitter. Requires 18mm Spanner to tighten.
7/8"-1-1/16"22 27mm Nut Splitter. Requires 21mm Spanner to tighten.
45 # steel hot forged shell, inner core bearing steel
Specification:

Material: chrome plated finish and hardened steel body
Capacity: Suitable for nuts and bolts of 0.4" - 0.47", 0.47" - 0.63", 0.63 - 0.87" or 0.87"- 1.06"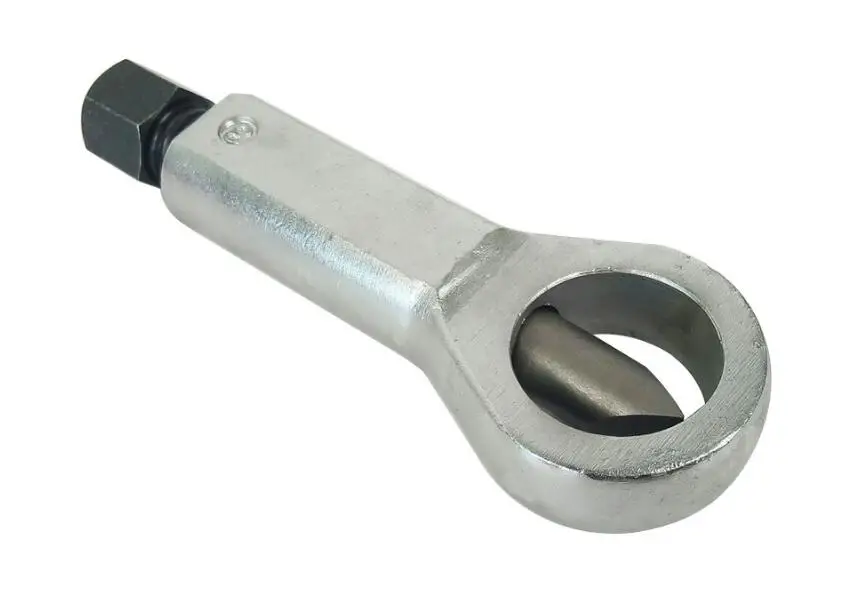 Package Included: 
1* Nut splitter (#1,#2,#3, #4, Set, Optional)